For bathroom remodeling at its finest, trust us to take your Statesville home to a whole new level!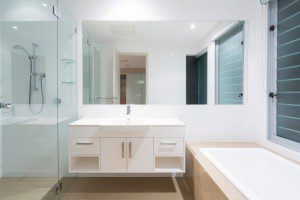 Bathroom remodeling is an excellent way to preserve and improve the value of your Statesville, North Carolina home. In fact, a dated bathroom not only makes you unhappy, but could also do the same to any future potential buyers. Whether you plan to keep your home for many years to come or put it on the market soon, you can count on our team at TCB Construction to modernize it.
If you have been holding off on bathroom remodeling because you are concerned about either cost or having a bathroom out of service for a long time, we have the solution. You'll be happy to know that we strive to keep our prices affordable. Furthermore, our fully qualified and licensed team will get your bathroom remodeling done far quicker than you could do if you handled the work yourself. We put the best team together to provide timely project completion without sacrificing quality.
Our owner is hands-on with every bathroom remodeling project to make sure all goes as planned and that you are completely satisfied with the result. Whether you are looking for just a couple of upgrades in your bathroom or a full renovation, you can count on our attention to detail and professionalism to give you the dream bathroom you envision. With more than 15 years of experience and a commitment to putting our customers' needs first, we are confident your bathroom remodeling experience will be exciting and rewarding.
If you have any questions about our bathroom remodeling services or any of our other services that can transform the appearance and functionality of your home, don't hesitate to contact us.
---
At TCB Construction, we offer bathroom remodeling services in Hickory, Newton, Sherrills Ford, Statesville, Conover, Maiden, Claremont, Catawba, Taylorsville, Lenoir, Morganton, Valdese, Connelly Springs, and Lincolnton, North Carolina.