We recommend turning to us for pressure washing services in Hickory, NC regularly to maintain the appearance of your home.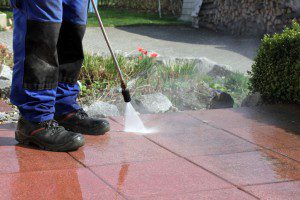 Pressure washing is a process that involves using a powerful stream of water to clean a surface. At TCB Construction, we are proud to provide pressure washing services in the Hickory, North Carolina area and are confident that you will be pleased with the outcome of your project.
We often pressure wash the exterior of homes before we paint them in order to ensure that we don't paint over dirt and debris that could harm the way the paint looks once it dries. However, this isn't the only reason why pressure washing your home on a regular basis is a good idea. Here are a few others:
Letting us pressure wash your home can eliminate mold, mildew, and stains that can compromise your home's exterior.
By maintaining the surface of your home with pressure washing, you prevent your home from aging prematurely and keep rot and decay from developing.
Regular pressure washing can keep harmful mold, mildew, and algae from growing on your property.
Before we pressure wash your home, we will give you an honest and fair estimate regarding what it will cost. However, since we strive to keep the rates on all of our services low and competitive, we're confident that you won't be deterred by the price of pressure washing your home.
If you want to know more about why having your home pressure washed regularly is a good idea, give us a call at TCB Construction. We are always more than happy to provide you with further information.
---
At TCB Construction, we offer pressure washing services in Hickory, Newton, Sherrills Ford, Statesville, Conover, Maiden, Claremont, Catawba, Taylorsville, Lenoir, Morganton, Valdese, Connelly Springs, and Lincolnton, North Carolina.