If you are currently living in a home where the basement is underutilized, give us a call to learn more about our basement remodeling services in Sherrills Ford, NC.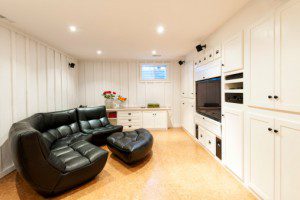 The basement in a home can serve a number of different purposes. Some people use their basements strictly for storage, and the area may not even be fully finished. However, this is a waste of valuable square footage in your home because a finished and updated basement can drastically increase the size of your home, as well as its property value. If you are currently living in a home where the basement is underutilized, give us a call at TCB Construction, where we specialize in basement remodeling services.
When our licensed and experienced contractors come in, we will provide you with a free estimate for basement remodeling services. This could be as simple as updating and painting the space, or doing an overhaul to make it more livable. We offer very competitive pricing and can fit just about any budget. Regardless of the size of the job, our owner will come to your home to guarantee quality of work and consistency, making sure you are satisfied with the work we do.
Basement remodeling can also make your home more functional, since we can add extra insulation and put up walls to create bedrooms, bathrooms, living areas, and more. We are skilled in a variety of facets of the construction industry, from framing to remodeling, and more. Our owner has been in the industry for over 15 years and enjoys working with local customers in the Sherrills Ford, North Carolina area. We are available for consultations during normal business hours or by appointment on weekends.
---
At TCB Construction, we offer basement remodeling services in Hickory, Newton, Sherrills Ford, Statesville, Conover, Maiden, Claremont, Catawba, Taylorsville, Lenoir, Morganton, Valdese, Connelly Springs, and Lincolnton, North Carolina.