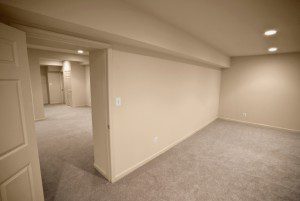 Have you ever heard the phrase, "The answer was right under your nose."? Often we hear of our Hickory, NC friends or neighbors frustrated with the lack of space or storage in their homes, and we want to tell them to look down! Basement remodeling services can easily give you the storage, theater, or extra room that your house has been crying out for.
Unlike adding an addition to your home, basement remodeling uses existing space in your home without changing the footprint of your house. This makes basement renovations a great choice for those who have a growing family or are in need of extra space, but want to stay in their current home.  With our help at TCB Construction, your basement remodeling job can make your basement feel like an extension of your home or something completely different, such as a theater room. The choice is up to you!
Some people shy away from basement remodeling because they worry their space will feel dark and cramped. With the right design and a little help from the experts, you will be able to feel comfortable in your basement space and enjoy spending time there. You'll also gain a lot of useable square footage and storage space.
If your basement is unfinished or desperately needs to be updated, we want to help you. Please give us a call today for more information about how our basement remodeling services will leave you anything but feeling down.