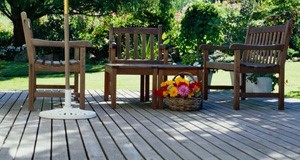 Would you like to enjoy your outdoor living space more than you do now? Do you only get to use it during the best summer weather? When a deck building professional does their magic, you will be able to enjoy it most of the year!
Spring – Wet spring weather can make your yard too soggy to enjoy, but with deck building, you will be above that with a nice area to sit out and enjoy watching those spring flowers pop out of the ground and nature awaken around you.
Summer – Even though the weather during the summer allows you to get outdoors, there still can be times when you might not enjoy your Hickory, NC yard. Deck building that includes at least a partial section that is covered will allow you to enjoy the outdoors more when the sun is hot. A screened area can even be added for those days when flying pests would normally drive you indoors.
Fall – As the nights get a bit cooler, deck building with a fire pit area or fireplace can be a great place to gather with friends and family.
Winter – It is far easier to clear snow from a deck than it is other types of outdoor living spaces, and you can keep putting that fireplace or fire pit to good use, so you can enjoy the outdoors, even in the winter.
At TCB Construction, we have the deck building expertise to give you the outdoor space that will suit your needs during all four seasons of the year. We can add the features you desire, so your deck adds value to your home and your enjoyment. Our high-quality deck building skills and materials will give you a deck you'll enjoy for years to come.