Get great results for your outdoor living space!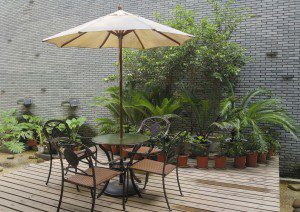 A deck is the perfect place to host a BBQ, relax with a good book on a warm evening, or sit outdoors with your kids, enjoying the world around you. If installing a deck is part of your plans to enhance the functionality and aesthetics of your outdoor living space, leave the project up to us at TCB Construction. As renowned construction professionals in the Statesville, North Carolina area, we've completed hundreds of deck building projects over the years, and we look forward to working on your project.
With every deck building project we work on, we start off the process by consulting with our client. We'll sit down with you and discuss how big you want the deck to be, where you want the deck to go, what materials you want the deck to be made of, etc. After we finalize these plans, we'll be ready to start building the deck you've always wanted!
Considerations for Your New Deck
There's a lot that goes into any deck building project, and we want to make sure you end up 100% happy with the way your deck turns out. As a result, there are a couple of things we want you to consider before we finalize the plans for your new deck:
How you use your outdoor space—How do you currently use your outdoor living space, or how do you want to use it after you have a deck? For example, do you simply want a deck for enjoying the sunrise with a cup of coffee, or do you want a deck for all your friends and family to come over for BBQs regularly? What you want out of your deck should determine your design plans.
The size of your yard—The size of your yard should come into play when it comes to your deck building plan. If you have a smaller yard but want a bigger deck, keep in mind that this new structure will become the focal point of your yard. If you have a larger yard but want a smaller deck, think about if you care about the new deck looking proportional.
Overall look—Decks come in all shapes and sizes. Don't be hesitant to submit pictures of what you want your deck to look like as we plan it out.
Of course, we'll be with you every step of the way to make sure you love how your deck turns out.
Our Difference
We only use the finest building materials, and we care about quality over efficiency. While we'll finish your deck building project in a timely manner, we'll make sure we construct the structure in a way that ensures your deck's structural stability and functionality moving forward, so you have many nights of lounging outside on your deck ahead of you.
Get Started Today
We want to tell you more about our deck building services and everything they entail. Give us a call at TCB Construction today to speak with one of our construction professionals about the ideas you have for your new deck.
---
At TCB Construction, we offer deck building services in Hickory, Newton, Sherrills Ford, Statesville, Conover, Maiden, Claremont, Catawba, Taylorsville, Lenoir, Morganton, Valdese, Connelly Springs, and Lincolnton, North Carolina.