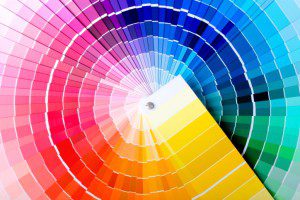 Did you know that the colors around you can influence your mood? Businesses take advantage of this all the time when designing their locations. For example, a company that wants to instill calm and serenity in its customers and employees might choose blue. A restaurant, on the other hand, will be careful not to use blue, as it can make food look unappetizing. When it comes to selecting colors for your exterior or interior house painting, there are a number of things to consider.
Fads – Using colors that are a current trend is a wonderful way to make your home look modern, but keep in mind that when the trend changes, you will need to go through the process of interior house painting once again. If you want a more classic look that ensures you won't have to put out for the cost of interior house painting for a few years, then avoid fad colors.
Regulations – Be sure to understand any regulations that may be in place for your community when selecting exterior house painting colors. It can be a costly mistake to choose a color that is not approved, as the association will make you change it.
Future Plans – If you plan to be in your home for a number of years and you are hankering for some unusual or bold color for interior house painting, go ahead and do it. On the other hand, if you plan to sell before long, keep in mind that your "wow" colors may not be as appreciated by the majority of buyers out there. You can still use them, but you should plan for switching back to a neutral color before listing your home for sale.
One Color vs. Multiple – If you are hiring a house painting professional, keep in mind that your quote will go up the more colors you use, as there is more labor involved when switching to different colors than there is in using the same color throughout for interior house painting. You will also need to consider how multiple colors will work together in areas where the rooms join.
If you need advice for house painting – either exterior or interior house painting – in the Hickory, NC area, contact us at TCB Construction. Our color experts can help you choose the best colors for your home that will look great and even perhaps enhance your mood at the same time!