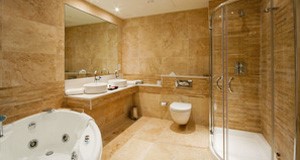 You have decided that this is the year you are going to make some renovations to your home, and you are going to begin with bathroom renovations. It is easy to let enthusiasm and excitement get you off running on the task, but it is wise to take the time to plan and work through the following steps before getting started.
1. Budget – As with any big project, you need to assess what your total budget is for bathroom renovations. Any renovation can quickly become far more expensive than you anticipated if you don't set a budget first. Once you have decided what you can spend, you will have a clearer picture about how involved you can get with your project. If your home is older, you should also plan for contingencies, such as a wall that has rotted out due to water damage or insects, as well as other hidden problems.
2. Time – You must also determine how long bathroom renovations are going to take. If you have another bathroom in your home, the time factor won't be as critical, as long as your family is prepared to share. It will take more time for bathroom renovations if you are planning to go with custom crafted cabinetry and special order fixtures than if you are going to utilize stock cabinetry and fixtures.
3. Style – You will need to decide what type of style you want for your bathroom renovations. Do you want something rustic, contemporary, modern or another style? Also consider the functionality of the various components in your bathroom, such as whether you want to incorporate ADA fixtures.
The actual design process, including product selection, will go smoothly with a bathroom renovation contractor assisting you. They can also offer advice and recommendations that can make your bathroom renovations go smoothly, within budget and on time. If you would like to arrange a free consultation and quote for your Hickory, NC bathroom renovations, give us a call at TCB Construction. We can help you with simple upgrades to a bathroom addition, and everything in between. We're always taking care of business in the most professional and dedicated way possible.