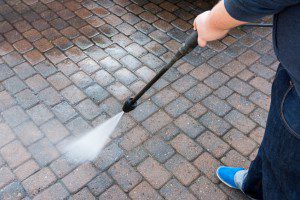 When it comes to your home, the tools and toys that you can buy at the hardware store are dizzyingly endless! Especially for first-time homebuyers or those who choose to put their own flare on a fixer-upper, the gleaming aisles of helpful tools can be intoxicating– and expensive! If you're thinking of adding a pressure washer to your arsenal of tools, there are a few things to take the pressure off your mind when making the purchase, such as:
Use- What will you be pressure washing? If you'll only be using a pressure washer for preparing a home or deck for painting, you may be better off renting vs. buying. If you do decide pressure washing is something you'll do more often, say 100+ hours every year, consider looking into industrial models.
Safety- Pressure washing can get a job done quickly. It can also go horribly awry if you are unfamiliar with the tools, valves, nozzles, and other parts of the pressure washer. Take the time to familiarize yourself with pressure washing, and always start far away from the surface you'll be pressure washing, moving forward to get the results you want. You can always go forward, but it'll be much harder to replace something that's been stripped off.
Cost– The cost of pressure washing is obviously something you'll need to work into your budget. If your home needs a lot of repairs or if you're going to use your pressure washer for more commercial purposes, the costs will be different.
If you want to know more about pressure washing for your Hickory, NC property, please contact us here at TCB Construction for more information.